Laying the Foundations
The Marubeni Scholarship Foundation, Inc. was established on October 16, 1989, to provide scholarship funds for less-privileged youth seeking a technical education. An initial grant of US$200,000 was presented to then-Philippine President Corazon C. Aquino by Marubeni's Manila Branch General Manager Morihiko Maruyama. The Don Bosco Youth Center in Tondo became the pilot learning center. Marubeni then infused US$50,000 in 1993, and US$100,000 in 1999. In 2008, as Marubeni celebrated its 100th year of business operations in the Philippines, the Foundation received an additional US$700,000 to increase its capital.
The Foundation is supporting an average of almost 100 scholars every school year in various technical institutions. The total number of scholarship grants awarded has reached more than 2,700 since its inception.
The Beneficiary Schools
Today, five Don Bosco Training Centers offer Marubeni scholarships to their outstanding applicants. At the centers located in Tondo, Makati, Tarlac, Mandaluyong, and Eastern Samar, out-of-school-youths train from one year to three years to become qualified technicians in automotive, electrical, mechanical, refrigeration and air-conditioning, electronics, and instrumentation technology.
Marubeni scholars enrolled at the Dualtech Training Centers in Manila and Laguna receive similar technical training. Graduates of Dualtech are specialists in automotive and electronic technology, and are well versed in welding, refrigeration, fiber optics, robotics, and other state-of-the-art technology.
The Balete Family Farm School in Batangas teaches a basic high school program for children in rural farm communities. This is supplemented by professional agricultural training in processes such as agricultural technology and mechanics, cooperativism, farm management and marketing, and crop and animal production.
At the Punlaan School, young women hone skills that are valuable to a career in the food and beverage industry. The Foundation has sponsored more than 100 scholars at Punlaan since 1995. Many of these women are now employed and have established their careers in the industry. Similarly, the Maligaya Institute of Culinary Arts and Residential Services and the Anihan Technical School train young women who wish to find employment in the restaurant and hotel industries.
Other schools, which offer scholarships from the Marubeni Scholarship Foundation, are CITE Technical Institute in Cebu, the Aemilianum Institute in Sorsogon, and the Fr. Pierre Tritz Institute-ERDA Tech and Vocational Secondary School in Pandacan.
Donations to Public Elementary Schools
In 2008, the Foundation expanded its activities to include material donations to public elementary schools. Recognizing the importance of primary education in the formation of young minds, the Foundation aims to improve the quality of learning in the public elementary schools through donations of computers, textbooks, audio-visual equipment and other instructional materials.
As the inaugural recipient, the Bagong Pook Elementary School in Malvar, Batangas received textbooks and audio-visual equipment to enhance its teaching facilities. In 2009, three more public elementary schools in Malvar, Batangas, namely, San Isidro Elementary Schol, San Juan Elementary School and San Pioquinto Elementary School, received computers, textbooks and audio-visual equipment which benefited more than 900 elementary pupils. These donations were able to help the schools to gain significant improvements in their results in the 2010 National Achievement Test (NAT).
The Foundation continued its commitment to Malvar by donating a total of sixteen brand new desktop computers in 2010. With this last donation, all the public elementary schools in Malvar were able to receive at least one (1) computer unit from the Foundation immensely improving the computer literacy rate among public elementary school pupils in Malvar, Batangas.
In 2011, the Foundation donated a total of 20 desktop computers to four public elementary schools in Batangas City. The four elementary schools are located near the Batangas port where a lot of poor migrant families from Visayas and Mindanao, including the minority group Badjaos, are currently residing. Initial results show that there had been significant improvement in the computer skills of the students. According to principal of one of the public school recipients, the children became smarter and gained self-confidence and self-esteem as they mastered computer skills. Through the Computer Literacy Program, the children learned to use computers in more positive and effective ways.
The Foundation continues to focus on improving computer literacy among public elementary pupils in the different provinces in Luzon. Through its donations of computers, the Foundation has extended its reach to Bulacan, Pangasinan, Nueva Ecija, Rizal, Laguna and Cavite and would like to see the impact of the usage of computers in the performance of the public elementary students.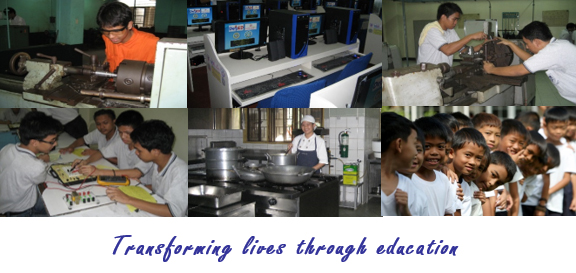 Activities of Marubeni Scholarship Foundation, Inc.
Computer Donation Turnover Ceremony 2019
Computer Donation Turnover Ceremony 2018
Computer Donation Turnover Ceremony 2017
Computer Donation Turnover Ceremony 2016
Computer Donation Turnover Ceremony 2015
List of Beneficiary Schools of Technical & Vocational Scholarship Grants
Don Bosco Youth Center (Tondo, Manila)
Don Bosco Technical College (Mandaluyong City, Metro Manila)
Don Bosco Technical Institute (Makati City, Metro Manila)
Don Bosco Training Center (Borongan, Eastern Samar)
Dualtech Training Center (Canlubang, Laguna)
CITE Technical Institute (Cebu City, Cebu)
ERDA Technical and Vocational Secondary School (Pandacan, Manila)
Punlaan School (San Juan City, Metro Manila
Manila Institute for Culinary Arts and Residential Services (Malate, Manila)
Anihan Technical School (Calamba, Laguna)
Summary of Donations to Public Elementary Schools
| | | | |
| --- | --- | --- | --- |
| 2008 | Bagong Pook Elementary School | Malvar, Batangas | Text Books & TV/DVD set |
| 2009 | San Isidro Elementary School | Malvar, Batangas | Computers, Text Books & TV/DVD set |
|   | San Juan Elementary School | Malvar, Batangas | Computers, Text Books & TV/DVD set |
| 2009 | San Pioquinto Elementary School | Malvar, Batangas | Computers, Text Books & TV/DVD set |
| 2010 | Various Elementary Schools | Malvar, Batangas | Computers (18 Units) |
| 2011 | Sta. Clara Elementary School | Batangas City | Computers (  6 Units) |
|   | Julian Pastor Elementary School | Batangas City | Computers (  6 Units) |
|   | Malitam Elementary School | Batangas City | Computers (  4 Units) |
|   | Wawa Elementary School | Batangas City | Computers (  4 Units) |
| 2012 | San Nicolas Elementary School | San Nicolas, Hagonoy | Computers (16 Units) |
|   | Don Manuel Elementary School | San Nicolas, Hagonoy | Computers (  6 Units) |
| 2013 | Lumban Central Elem. School | Lumban, Laguna | Computers (11 Units) |
|   | Wawa Elementary School | Lumban, Laguna | Computers (10 Units) |
| 2014 | Bobon Elementary School | San Manuel, Pangasinan | Computers (  8 Units) |
|   | San Roque Elementary School | San Manuel, Pangasinan | Computers (  6 Units) |
|   | Bulangit Elementary School | San Nicolas, Pangasinan | Computers (  2 Units) |
| 2015 | Tanza Elementary School | Antipolo City, Rizal | Computers (19 Units) |
| 2016 | Baras Pinugay Elementary School | Baras, Rizal | Computers (20 Units + 1 Host Unit) |
| 2017 | Amadeo Elementary School | Amadeo, Cavite | Computers (30 Units + 1 Host Unit) |
| 2018 | Muñoz Central School | Muñoz, Nueva Ecija | Computers (22 Units + 1 Host Unit) |
| 2019 | Virgilio B. Melendres Memorial Elem. School | Pililla, Rizal | Computers (24 Units + 1 Host Unit) |