Marubeni Philippines Corporation is a company that knows no limitations.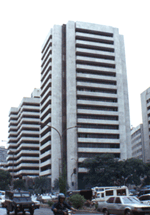 Marubeni Philippines Corporation (MPC) is a company that knows no limitations. MPC, while representing Japan's Marubeni Corporation in the Philippines, is a 100% subsidiary of Marubeni Asean Pte. Ltd.
In keeping with the tradition of the sogo shosha, Marubeni Philippines Corporation is a league above conventional general traders. It services clients with its extensive global network of human, financial and technological resources. Its operations encompass domestic, import, export and offshore trade, turn-key project management, risk management, finance, logistics, Build-Operate-Transfer projects, joint ventures and investments in various industries such as telecommunications, information technology, power, agriculture, transportation, construction, metals, and much more.
As it had done for more than 100 years in the Philippines, Marubeni walks hand-in-hand with the country's development seeking to aggressively promote infrastructure projects, introduce innovative solutions in technology, advance endeavors in commodity business and enhance agriculture-related businesses and other basic industries.